So, I was my usual self today, and sat down to eat my usual bagel after work and watched some TV. This time it was Chelsea Lately from Monday, December 3rd (two days ago). I sat on the couch, eating, watching this blonde British gal, who kinda reminded me of a skinnier Adele, talk about how the Pope is getting a twitter account, and the 85 year old Catholic leader is supposed to start twittering in 2 weeks. There is a scheduled date for it too...
My first thought is about this picture of him, was that why do we have a Pope that in every picture that I've seen of him, my first thought is that he looks pure evil? Surprisingly, the bad picture of the tv screen that I took makes him look WAAYY less evil. When you see those wrinkles in HD, it's terrifying.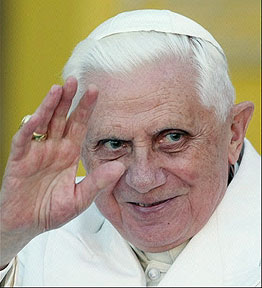 See what I mean?
Naturally, my second thought was, how the hell is this 85 year old man going to know how to use a computer so that he can tweet. Unless he is one exceptional dude, I really think that he's not going to know how to use it. My grandmother is about the same age, and she doesn't even know how to check her voice mails on her cell phone. Love you Grandma.

Apparently, a "young Cardinal" is going to be tweeting for him.
Third, nice pun on the church not needing to do any more reaching out to young people. That was classic.
This story was a goldmine of hilarity.